I love to decorate with color! But I don't want to be stuck with crazy colors for big projects like bright paint for my living room or a new fire engine-red couch. Spring hues are vibrant and bring bursts of color when propped on my neutral couches and chairs. While yellow and blue are my favorite shades, I also like incorporating pastel hues of violet, orange, and red.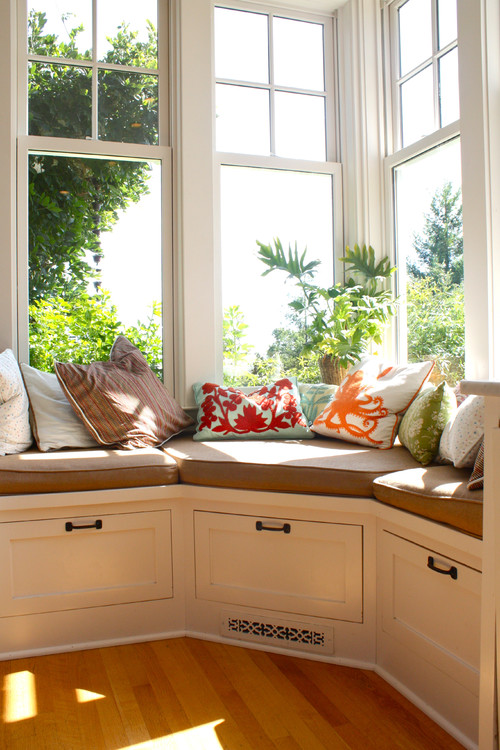 Here are a few easy ideas to switching out your pillow covers for a revamped living room this spring:
No-Sew Pillow Cover
When I said easy, I really meant it! This lovely pillow cover instruction from Organize Your Stuff Now  only requires folding and tying the fabric. Yes, that means there's no sewing involved.
There's no need to measure the fabric for this pillow cover, but you do have to make a rough estimate that the cloth is 3 times as wide and 2 times as tall as your pillow. Once you're ready, you can now start folding it!
Put the pillow in the middle of the fabric on the wrong side. Fold the bottom half of the fabric up to the center of the pillow and do the same for the top half. Afterwards, fold both sides of the fabric as instructed. Then bring the ends to the center and tie them up into a square knot.
This no-sew pillow cover makes me want to switch out my covers every week! And with the finishing ribbon, you can show both sides of the throw pillow without letting on the fact that you just folded the cover.
No-Sew Pillow Cover #2
This other no-sew pillow cover instruction from Fox Hollow Cottage requires a bit of repurposing. For the materials, you'll need an ordinary pillow case and a piece of twine or ribbon.
All you have to do is put your throw pillow inside the regular-sized pillow case, fold the open side towards the middle of the pillow, then secure the pillow cover by tying a piece of ribbon or twine around the pillow. Jute is often my go-to ribbon because it adds texture, gives the throw pillows more character, and goes well with spring.
Easy-Sew Pillow Cover
This comprehensive instruction from For Lauren and Lauren requires very little sewing that you can get done within 20 minutes! I love how fun and easy her instructions are and it only needs a free afternoon to get this project done.
The first thing you need is an old pillow to fashion your cover after. Lay the pillow on the fabric. There are no required measurements but the textile does have to be able to completely cover the pillow.
Fold the edges about an inch thick then iron them down before sewing. Afterwards, turn the fabric inside out then overlap the edges, cutting off the extra fabric. Slide the pillow out and sew up the sides in a straight line. There you have it! An easy-sew pillow cover that you can do on a lazy Saturday afternoon.
You can also sew in ribbons, felt flowers, or felt leaves on these throw pillow cases to add texture to your pillows. I'm partial to using fabrics with spring designs myself. How about you?
by