It can be tough finding the perfect jewelry holder to fit various accessories. That's why I am a big fan of DIY jewelry displays. With a bit of repurposing magic and decorating ingenuity, you can have fashionable jewelry holders that suit your personal style!
On the Dressers
The dresser is still the ideal place for your jewelry, but if you want a break from sometimes, the usual jewelry boxes, do not fit your décor. Hhere are some suggestions for affordable and charming jewelry storage solutions:ideas to change your usual jewelry boxes into charming decorating pieces!

Tiered tray
Usually seen in the dining room, this tiered tray makes for an adorable jewelry holder! Repurpose your chipped and vintage tiered trays, spray paint it them in a color of your choice (make sure the paint complements the room's décor!), and let it dry. Afterwards, arrange your jewelry on the tray with the heavier items on the bottom tier and the smallest pieces on the top level.
If you don't have a tiered tray lying around the garage or attic, you can always comb through garage/ or yard sales or and thrift shops for a second-hand onepiece.
Tea cups and saucers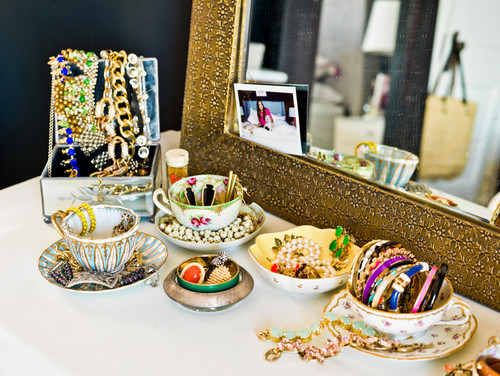 Even mismatched tea cups and saucers have a home on your dresser as jewelry holders. Collect a small group of unused or cracked cups and saucers and use them to store bracelets, earrings, rings, and barrettes. The various designs of these ceramics your tea cups and saucers are great sources of color for your dresser.
Jewelry tree
I can't help but love this affordable home decorating idea! Get a branch and spray paint it in the color you want, then attach it upright to a small block bar of wood. Having a jewelry tree on your dresser is a stylish way to hang of hanging your necklaces and bracelets while avoiding tangles.
If you don't have a block bar of wood for a stand, you can also use a small jar or vase. Place the branch in the vase as you would flowers, and you have your own jewelry tree!
On the Walls
When you lack the space for your jewelry on your dresser, you can always turn to the walls for more storage space. Here are some affordable jewelry holder ideas for your walls:.
Jewelry branch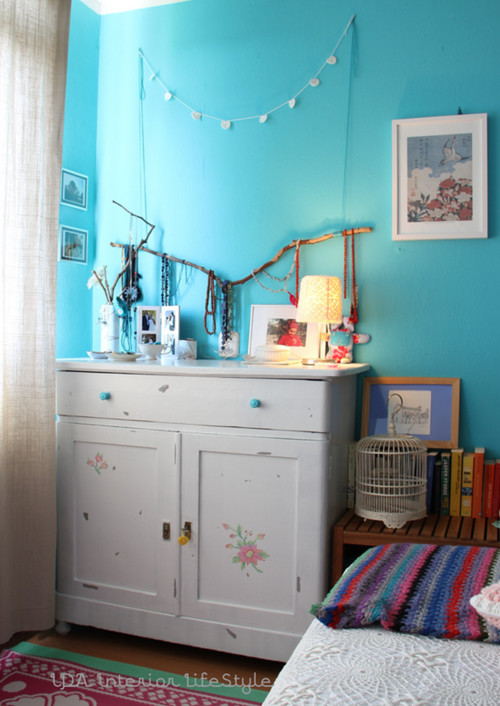 Much like the jewelry tree, the jewelry branch just needs a little spray paint, then you can go ahead and hang it on your wall.
Jewelry board
Cover your frame board with Put a piece of lace or net (about the same size as your frame), and secure it at then attach it to the back. You can now hang your new jewelry board by your dresser, by your bathroom sink, or even inside your closet to save space.
Organizing Box
Hang an organizing box upright to save space on your dresser. It works just like a jewelry box, only upright. Pair it up with a couple of coat hooks for your necklaces and you're all set!
Have fun displaying your jewelry with these jewelry storage ideas! Which one do you like best?

by