Our resident home décor stylist, Jennifer Lutz, loves an organized home, but she knows that organization is always a work in progress. With our new "Home in Order" series, Jen gives you quick and easy tips on how to curb the flow of things into your house, get rid of items that have been piling up in your storage, and maintain a well-organized home, room by room.
Garages are the oft forgotten extension of our homes. Just a few days ago, our own garage was a train wreck. Summer days are always busy what with the kids always at home and my husband and I preparing travel schedules. You can just imagine what our garage looks like: kids' toys and bikes strewn about, and the gardening tools not in their proper places. My first reaction to the mess was to simply close the garage door. But, bless my dear husband: on Friday night, he took everything out of the garage, and cleaned and reorganized it (I helped a bit).  Throwing out old things brought much joy to my heart. I mean, who doesn't love a clean garage? Now, I can actually pull my car in again without running over a bike or a scooter.
So if you can't pull your car into the garage, have a hard time finding a tool you're looking for or, my personal favorite, have accidently run over your kid's favorite toy, here are some tips for cleaning and reorganizing your garage.
Start Clean
For you to be able to see the space potential of your garage, I suggest starting clean. Empty out the garage to have a blank slate. Once everything has been taken out of the garage, sweep and wash the floor. If you think your walls are too dingy, you can also repaint them.
Group the Contents
Once everything is out of the garage, sort items according to their uses. Put all your tools (wrenches, screwdrivers, hammers) in one pile, your kids' playthings and sports equipment in another, and so on. Determine if you need every single one of the items you have.  I'm a firm believer, from experience, that we often have several tools because we don't have an efficient storage solution. Trust me, my family's guilty of this as well!
Let Items Go
When you've identified the things you don't need or haven't used in a year, donate or throw them away. Put in separate boxes what you consider trash and what you want to give to charity.
Don't Skimp on the Storage
You'll need proper storage before putting your remaining stuff back into the garage. Carefully plan and appraise how you're going to store the things you've decided to keep.
Assess the items you've kept to gauge how many bins you'll need. Wait to buy bins before you've determined how many items you'll be keeping, because you might purchase more storage than you need. Save time and money by being careful when planning your storage.
For additional storage, maximize your walls. This means mounting shelves, racks, and hooks for better storage. The shelves are the perfect place for your toolbox, cans of paint, and rain boots, while a couple of racks can hold your bicycles and skateboards. Install hooks for your water hose, tennis rackets, and fishing rods.
Label Everything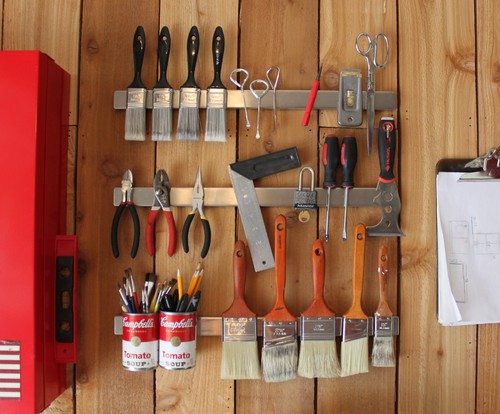 The best trick to keeping an organized garage is to label everything. This encourages you to put things back into their respective bins, and not just place them on a shelf once you're finished using them. Labeling your things also makes it easier for you to find the tools and items you need ― no more spending an entire afternoon just looking for the perfect type of nail for your concrete wall.
With these tips, you can now have a well-organized garage that you can be proud of! Visit us again for more organizing tips and ideas with Christmas Tree Market's Your Home in Order series!
by