New furniture is great, but when I want to add a bit of character to a room, vintage pieces are my go-to. You can use them as is or repurpose to serve a different function. Even if your home isn't entirely vintage, mixing styles — high and low, mid century modern with a touch of vintage, and the like — is acceptable these days. In fact, most home décor stylists encourage you to mix up designs instead of walking into a furniture store and buying a matching set of everything! So, have fun and blend the old with the new. Here are some of my repurposing ideas for vintage pieces:
Vintage Jars
Since I'm a big fan of mason jars, every now and then, I'll hunt for vintage jars in old furniture shops. Vintage jars make for nice storage pieces for your kitchen spices. Simply wash and dry the containers, and transfer your spices. Finally, add fun labeling! It will keep you organized while cooking and add a bit of style to your spice cabinet.
Vintage Doors
If function is not a big concern at the moment, that is, you're simply looking to add to your décor, vintage doors will look right at home as the new headboard for your bed. You can simply prop up an old door, even a closet door, against the wall right behind your bed. If you're willing to put in more work for this project, you can also mount it up on your wall. You can also add crown molding and repaint it in a color that complements your bedroom or bed.
Another good use for a vintage door is as a table, although this might need more time to finish. Attach old table legs to your door, and place a glass top for a flat surface. Now, you have a new, unique table!
Vintage Suitcases
We can never have enough tables in our home. Whether in the living room, bedroom, or foyer, we always have a flat surface for our knickknacks. A stack of suitcases can serve as your bedside table or a side table in your family room.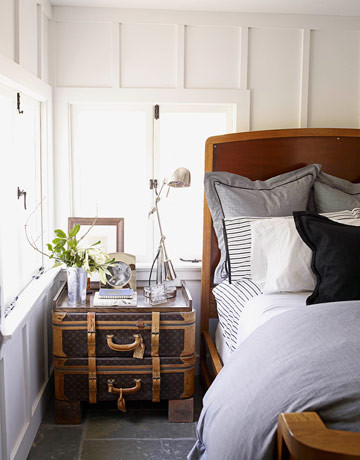 Vintage Ceramics
Vintage plates are always nice to look at and are common finds in used furniture stores, although complete sets are very rare. I mentioned before that mismatched plates add color to your dining table set-up. However, they also make for interesting wall art. Mount plates with different patterns and images on your dining room wall for instant old-school charm.
Aside from getting mismatched plates, buy some pretty teacups, too. It doesn't matter if they're chipped or if they don't have matching saucers; you'll be using these cups to store your jewelry. Buy at least five for your trinkets. Now, you'll always know where to look for your rings, bracelets, and other accessories!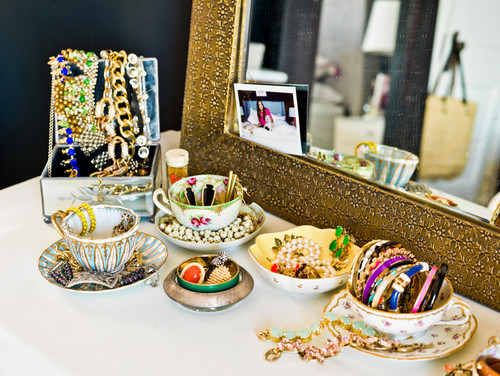 Vintage Medicine Cabinets
I guess I inherited my mom's penchant for sifting through old items in thrift stores. Fifteen years ago, she found vintage medicine cabinets at a used furniture store. The cabinets are now with me, and they serve as wonderful storage solutions for my dinnerware. Granted they are definitely starting to look a bit weathered (after being out on the sun porch for the last two years), but nothing some paint-and-primer-in-one can't fix, like this red spray-painted metal cabinet in Design Sponge at Home.
Vintage medicine cabinets turned storage solutions
Photos by Jennifer Lutz
One of my favorite home décor blogs, Young House Love, suggested this paint-and-primer-in-one when repainting furniture. This paint doesn't require you to sand the furniture anymore before using it, so I'm excited to try it out soon on my medicine cabinets!


The next time you're thinking of just simply passing by old furniture shops, think again. Your next home décor just might be hiding in the shadows waiting for you to take them home.
by