If you're a work-at-home mom like me, you know how important it is to have a personal workspace of your own. Oftentimes, a laptop on the dining table just won't cut it. A dedicated home office is essential to becoming successful at your job. But a home office doesn't need to be stiff or corporate-looking. Design your work area to reflect your personal style or to complement the rest of your home, and you'll feel more comfortable and motivated while working. Here are some tips to help you create a personal office that you'll actually enjoy working in.
Pick the Location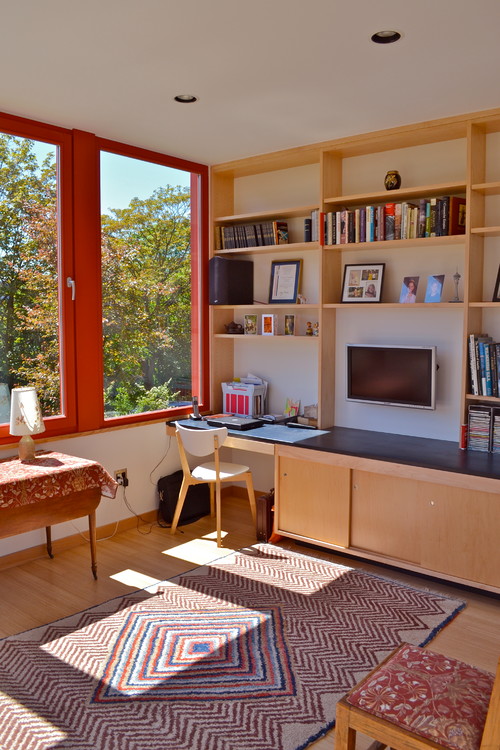 It's important to situate your home office where distractions are minimal. I wouldn't recommend setting it up in your bedroom. That big soft bed makes it too tempting to nap, and seeing your work desk could make sleeping difficult at night.

Try to find a separate room or a quiet corner where there is a lot of natural light. If you have an underutilized storage room, think of ways to relocate or dispose the stuff inside. You could also section off a part of the kitchen or living room if you plan to work during the day when no one else is home.
If space is a premium in your home, consider turning a closet into a compact home office. With a few shelves, wallpaper, and a lot of creativity, Kelly Rae Roberts converted a simple closet into a fun and fabulous workplace.
Choose Colors That Suit You
When decorating your office, choose a color scheme that you find interesting but not distracting. Go for chocolate brown paint or wallpaper if your home décor leans towards the traditional warm look of woods.
Bright colors, such as yellow, are invigorating and ignite your creativity. For a calmer setting, use pale green to help soothe your mind without making you feel lethargic.
Get Organized
Just like your home, you'll want to maintain a neat and organized office. Make sure to keep your desk and floor free of clutter. If you lack space, install floating shelves or a tall bookcase to store your office supplies, reading materials, and documents.
If you're on a tight budget, simply shop around your home and look for items to repurpose. A stack of old suitcases can be used for storing seldom used files and can double as a side table. A folding screen provides privacy, blocks out distractions, and is great for hanging up your appointment calendar, memos, reminders, or cork boards.
Select Attractive Furniture and Décor
Choosing furniture and décor that fits your home design helps put you at ease and makes your office more appealing. Modern ergonomic chairs offer great support, but if you feel more comfortable with a rustic wooden chair or a chair with a fabric cushion seat, then by all means, use it!
Whether it's an antique lamp, a family portrait, or a landscape painting, your office should have décor that inspire you to do your best work. If you want a warm, natural touch in your workspace, put in a few potted plants, too.
Treat your office as an extension of your home and you'll find yourself with a cozy yet professional workplace that can brighten your mood, boost your productivity, and simply make you love what you're doing.
by