Keeping your cupboards neat and organized can be intimidating, but it is doable! For this month's Your Home in Order post, I have collected a few home organization ideas to easily maintain well-kept kitchen cupboards.
1. If it's heavy, put it at the bottom
This simple home organization tip creates a visual and practical balance for your cupboards. Visually, cupboards will not look cramped and disorganized if you put the heavy items on the bottom shelf, with the other items thinning out as you go upwards. Putting heavy items at the bottom keeps the heavier weights balanced and prevents said items from tumbling out of the higher shelves.
2. Take advantage of open shelves
I understand the desire to keep our cupboards closed off to prevent them from getting too dusty. However, this home organization idea can turn your kitchen cabinets from drab to shabby chic without the crazy, overcrowded look!
Take advantage of the accessibility of open shelves and cabinets by putting on them all the kitchen items you need for cooking! Organizing your necessities, such as pots, pans, serving plates, and utensils, on shelves makes cooking more convenient and fun. You can also use your open shelves to display the pretty dishes and serving plates you regularly use when entertaining guests.
3. Grouping items makes for better food storage
As mentioned in our previous Your Home in Order post, classifying items by their purpose makes organizing easier. In the kitchen, grouping items makes for better food storage. Store your food separately from the spices and herbs to preserve their original taste and intensity.
4. Line up your cookbooks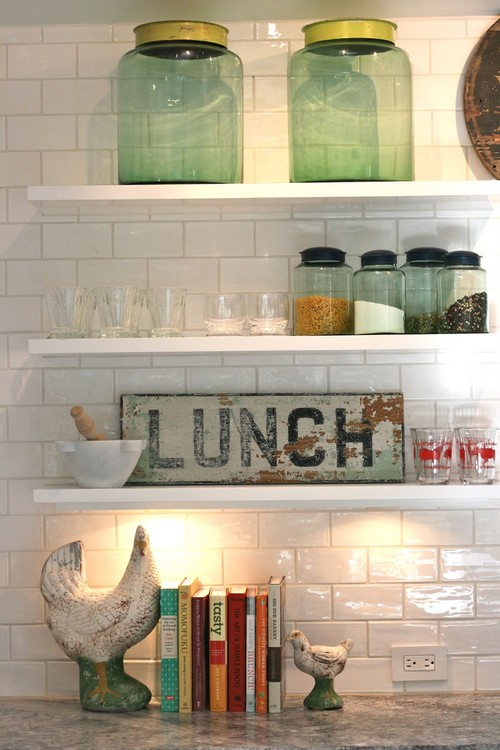 Don't keep your cookbooks inside drawers! Place them in an area where you can easily access them, especially when you're entertaining guests. Your cookbooks will feel right at home on one of the shelves in your kitchen. You can also use a vase or a crockpot as a bookend, and put the books right on your counter. As for your recipe clippings, paste them in an album or notebook, and place them alongside your cookbooks for better kitchen organization.
5. Find new use for old things
Using old crocks and pitchers is a perfect organizing idea for the kitchen! Before putting them in your cupboard, clean them up a bit and, if you like, paint the exterior. You can use them as holders for utensils, napkins, drinking straws, or individually wrapped candies.
Have fun and get creative with these organization tips! If you have more kitchen organizing ideas, feel free to share them here!
by