When you love to entertain, a beautiful and functional dining room sets the stage for a successful dinner party. However, a lot of us are guilty of a few common decorating mistakes in this important room. In this post, we'll show you how you can avoid these design errors for a more enjoyable meal.
Poor Lighting
Trying to light your entire dining room with one overhead fixture is a common mistake. An overly bright chandelier can cast a harsh glare that's not only hard on the eyes, but also unflattering. In my opinion, soft lighting is the home décor equivalent of the little black dress. It hides a multitude of imperfections and makes everyone look better! For a few dollars, soft lighting creates instant ambiance and hides dust bunnies. Sign me up!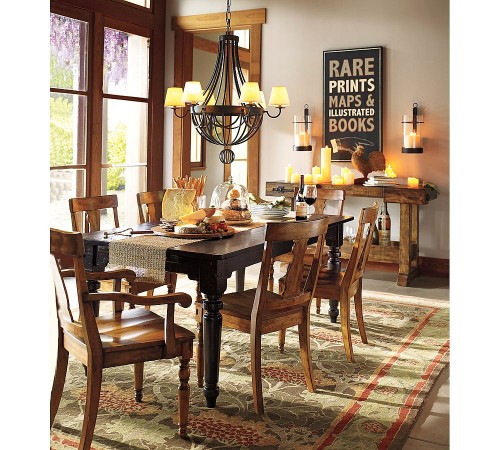 For the best lighting, work in layers. Complementary wall sconces are a great addition when accenting shelves, a painting, or other artwork. Likewise, shaded table or floor lamps create warm pools of light that improve the mood during mealtimes. For an elegant and intimate atmosphere, light a few candles, but for fire safety, be careful not to cluster all of them together.


Uncomfortable Furniture
I'm guilty of this! We have chairs that my husband despises, even though I, personally, love them.  They're pretty and I found them at an amazing price in one of my favorite furniture stores. That doesn't stop him from getting up quickly after meals, though. When shopping for dining room chairs, remember that comfort is just as important as style — beauty is only skin deep! Make sure you won't mind sitting in the chair for an hour or two, especially if you entertain often. There is no room in your home for uncomfortable furniture no matter how expensive or attractive the pieces may be.

When buying chairs for your dining table, check the distance between the table surface and the seat height. Be sure to consider the shape and size of your room and other dining furniture as well. A basic rule of thumb is to allow at least 18 to 24 inches for diners to move their chairs to sit down or get up.
Instead of hard, straight-backed dining room chairs, opt for cushioned or upholstered ones. Aside from being practical and comfortable, they also add a dash of coziness and style to your space.
Artwork Too High
A beautiful painting or print in the dining room is a surefire way to get appetites and conversations rolling. Unfortunately, it is not uncommon to see artwork hung at the wrong height.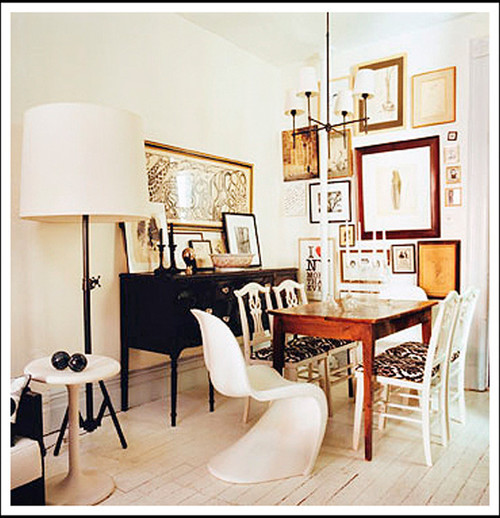 As a basic rule, the middle part of the picture should be placed at eye level. Since your guests spend most of their time sitting while in the dining room, try lowering the height of your artwork so that they won't need to crane their necks to admire your photos or art.
When decorating the dining room, mistakes are natural. But hopefully with these tips, you can now avoid these common design pitfalls and make your dinner parties memorable for all the right reasons.
by