The playroom is where the kids learn how to be more creative, imaginative, and organized. But when they can't manage to keep everything clean, it's up to us adults to help them keep "their" place neat and tidy. As a mom of four, I know first-hand that toys have a way of multiplying — almost like fruit flies! Here are some playroom organization tips that I find helpful when I'm trying to conquer the toy clutter.

Have a Giveaway
Helpful tip: Get two baskets and label or color code them. The first basket can be a "put away" bin, while the second one can be a container where you and your kids can place all the items to be given away.
Because children grow up fast, they outgrow still-functional toys. When your kids' playroom is full of toys unmatched with their age group, gather them all up in a big basket and give them away! Friends with younger kids, and the local Salvation Army or church will make better use of those toys, and you won't have to throw them out.
Helpful tip: Get two baskets and label or color code them. The first basket can be a "put away" bin, while the second one can be a container where you and your kids can place all the items to be given away. It also makes the process of sorting through toys easier.
Use Available Storage You Have

Your kids' playroom is the place where they can get messy and creative all they want, so don't hesitate to give them your old bins for organization.

Use bigger see-through baskets to keep teddy bears and stuffed dinosaurs, and old shoe boxes to hold toy soldiers. Door shoe organizers are also perfect for keeping all their craft supplies or other toys in one place.
You can also never go wrong with Ikea. There is a reason that their Expedit shelving systems are ubiquitous — they are affordable, attractive, and very helpful for organizing. Ikea Trofast is also a great tool and the bins are so affordable!

My other favorite way to organize is by color. I use this system for my kids' Legos. Target sells Lego organizers or you can create your own. This
post on I Heart Organizing
is by far my favorite!
Keep Favorite Toys Near

Kids will always have favorites, especially when it comes to their toys. To keep them from rummaging through their entire toy collection ― and to keep your sanity intact ― put their most favorite playthings in baskets or bins within their reach. Place the bins in the middle of the room or underneath their play table, if they have one, for easy access.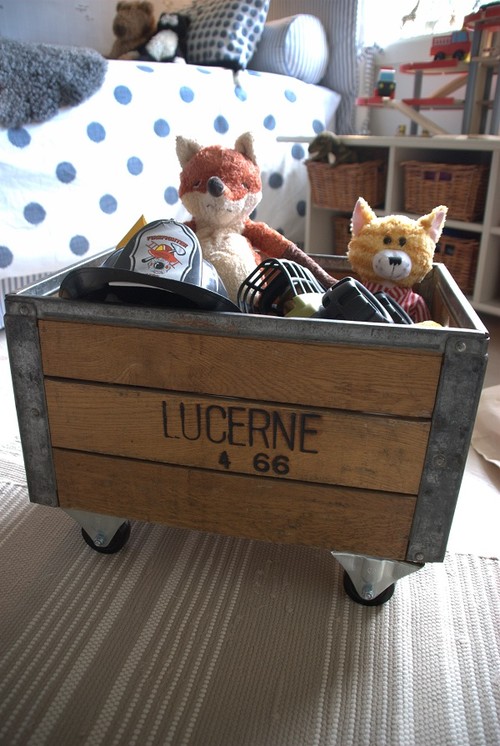 This playroom organization tip also makes it easy for you to rotate their toys, since all you have to do is to replace the bin with a new one. I like the idea of rotating toys in and out so that the kids don't get bored. We do this in the house, and when we pull out toys that the kids haven't seen for a few months, the children get excited. It's a bit like Christmas!
Set up Sections Inside the Room

To further encourage diverse interests and (hopefully!) a well-organized playroom, break the room into sections for your children. Setting up segments, such as a crafts area, Lego area, dollhouse area, and the like, helps your children put their toys back to their original places. These play sections also keep your children from fighting about "territory," especially when you have both boys and girls in one house.
Display Their Work

Displaying your children's artwork builds their self-enthusiasm and feeds their creativity, which is why artworks are often attached to the fridge. Why not take your kids' artwork to a whole new level by displaying them in their playroom? Keep their finger paintings, crafts, and paper sculptures in full view in one section of the room. Get a corkboard, use magnets, or make your own frames to put up your kids' paintings, and place a low console for their other crafts. This way, everyone gets a place for their own work, and paper clutter is reduced in the playroom.
Make play time easier and well-organized for both you and your kids with these fun and easy playroom organization tips. If you have more playroom organization ideas of your own, feel free to share them in the comments section below!
by