I have a handful of Christmas movies that I love to watch when the holidays come! Each year, I look forward to pulling out these movies, wrapping gifts, and building amazing Christmas memories with my family. As a bonus, these movies can be a treasure trove of Christmas decorating ideas for your home! If you're looking for some inspiration for your Christmas décor, take a look at these classic holiday movies.

The Holiday


This fun, romantic comedy starring Cameron Diaz and Kate Winslet features warm and timeless Christmas décor. I loved the small English cottage featured in this film! It's quaint and inviting, and is the perfect archetype for a timeless cottage/lodge look for your Christmas decorations.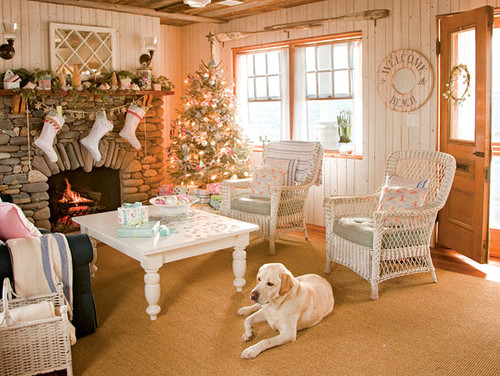 I love the combination of brick walls, wooden floors, mantel decorated with Christmas ornaments, and a magnificent Christmas tree in the living room! It creates the perfect setting for spending a night by the fire, reading a book, and drinking eggnog.

White Christmas


White Christmas makes me think of Vermont, ski cabins, and lots of snow. I can just picture Bing Crosby, Danny Kaye, Rosemary Clooney, Vera Ellen singing "Snow, Snow, Snow, Snow, Snow" on the train ride to Pine Tree, Vermont (I know, I'm a total sap)!
Traditional Christmas décor matches well with rustic and New England architecture, which favors simple and clean lines, wood beams, and brick walls. Lush wreaths are perfect for brick fireplace mantels, while a fully decorated tree looks right at home in one corner of the room. A few potted Christmas trees by the fireplace or entryway also bring a homey atmosphere to the space.
National Lampoon's Christmas Vacation

Another one of our favorite Christmas movies! National Lampoon's Christmas Vacation makes me think of freshly cut trees and decorating for the holidays―the traditional/quintessential American Christmas complete with the crazy family!
&nsbp;

This movie calls to mind a brightly colored Christmas tree with plenty of gifts under it. It's also reminiscent of getting the family together around the dining table, eating Christmas dinner, and having fun.
A Christmas Story
Screen cap of A Christmas Story

A Christmas Story is a bit sentimental for me because it was actually shot in Cleveland (my hometown), and the Santa scene was shot at a department store called Higbee's. As a child, we used to go downtown, shop at Higbee's, and then go and visit the Twigbee shop (a small shop for children to buy presents for family). Of course, Higbee's no longer exists except in video memory through A Christmas Story.


Aside from the holiday memories I have of this film, it also reminds me of kitschy Americana décor. The leg lamp is a perfect example of this.

You've Got Mail


Starring Meg Ryan and Tom Hanks, You've Got Mail reminds me of NYC, specifically Upper West Side. Streets busy with people shopping, quaint and locally owned shops, and plenty of twinkling lights.
This film makes me think of books all around the room and a beautiful Christmas tree in one area. It also inspires me to hang plenty of Christmas lights inside the house and to decorate with a mix of traditional and contemporary holiday design.
For fantastic design inspirations this Christmas, check out these movies to help you out! If you have your own film inspiration, share them in the comments section below.
by