Thanksgiving is just weeks away, and we're all excited to give thanks and spend some quality time with our family and friends! This year, make your Thanksgiving more special with a cornucopian and chic Thanksgiving table setting!


Prepare the table with linen

Set the background for your tablescape with linen that matches the Thanksgiving theme you have in mind. For a versatile Thanksgiving table setting that will work with any color scheme for the holiday, use neutral-colored linen.



As to what kind of linen, burlap is a popular choice. It's affordable and easy to use, and its warm beige hue matches the season's colors. You can also use it in several other ways. Burlap can be used as a place mat to go along with your tablecloth, or you can use it as a table runner for yet another Thanksgiving table decoration.
Ready the centerpiece

A Thanksgiving table is not complete without a centerpiece. For this year's Thanksgiving, dazzle your guests with a low-level yet lovely centerpiece. A simple and stunning table arrangement can create a warm and cozy atmosphere for you and your guests.


A big, white pumpkin makes for a stylish, fall-inspired Thanksgiving table setting. You can accentuate the centerpiece with some white candles in glass hurricanes and match everything with white china.
Set the placemats
I love this particular idea: making placemats out of Kraft paper. It's simple, chic, and affordable, and it's similar to burlap in color. Make your placemats even more special by giving your guests some space where they can write the things they are thankful for this year—a fabulous way to bond with your friends!
Coordinate with good china
Speaking of china, use ones that go well with your theme. Warm colors, such as brown and orange, give an autumn vibe to your Thanksgiving table, creating a welcoming ambiance in your dining room.
White, along with other neutral colors, is a popular choice among plates these days. For me, white dinnerware is often my go-to because it's so versatile—you can easily match it with linens, tableware, and other accents to complement each season without a hitch!
Arrange seating with place cards

Warm up your tablescape with personalized place cards. Print out your guests' names on white paper, paste them on cardboard tags, then tie them to a piece of twig for a minimalist look.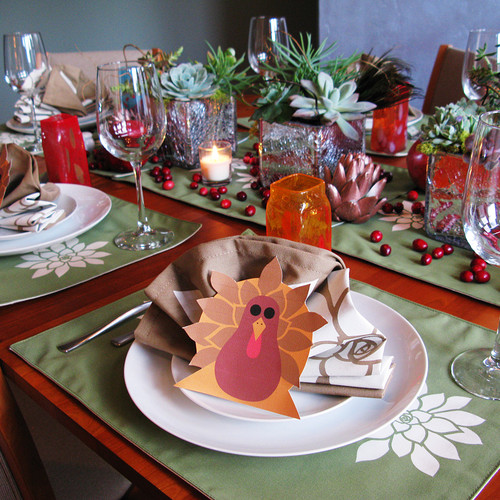 For a creative touch, use a cute turkey design on your place cards. It matches the season and provides a festive look to your dining table, especially if you have kids.
Delight your guests with a lovely table with these fantastic Thanksgiving ideas! How would you design your Thanksgiving tablescape this year?

by