Christmas balls are a holiday decorating staple. These baubles come in various colors, sizes, and variety of designs to fit your tastes. Most of us typically display the same Christmas balls year after year on our tree. But once in a while we get inspiration to try an entirely different theme. Don't retire those old Christmas balls just yet. Check out these novel ideas and breathe new life to your old baubles with just a few inventive tweaks!
For a different take on the usual Christmas décor, here are five different ways you can reinvent your Christmas ball ornaments this holiday season!
As a Hanging Display
Make a bold statement with Christmas ornaments tied together creating a fabulous display! Grab your ornaments, tie them together with matching colored ribbons and hang them by the window or door. You'll be surprised by the dramatic effect created by this quick and simple holiday project!
As Decoration for Wreaths
If you want to add a bit of flair to your simple green wreaths, use your old Christmas ornaments to decorate them! This Christmas decorating idea is a cost effective way enhance your wreaths with up-cycled items. Don't be afraid to mix and match bold colors for that eye-catching effect.
As a Garland
This Christmas decorating idea is perfect for old but still functional Christmas ornaments! Enhance your garlands with old Christmas balls that go well with your holiday theme. You can use fresh greenery or pine garlands as the base and carefully decorate it with your old baubles. Hang them by your windows or over your staircase banister for that chic holiday look.
As a Hurricane and Vase Display
Add color and vibrance to your Christmas décor by placing old Christmas balls inside glass hurricanes or clear glass vases for a bright and sparkly display! The playful tones of your ornaments make a perfect accent piece for your living room or family room.
You can also encase your old Christmas balls inside clear glass cake covers and place them in your dining room as a centerpiece. Add a hurricane glass filled with different kinds of trinkets and place it in the middle of your dining table or along your countertop to give your dining room a festive charm!
As a Centerpiece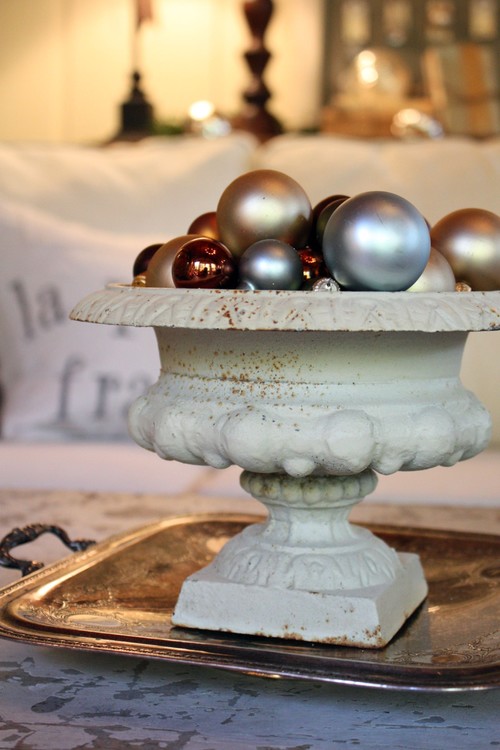 Another easy Christmas decorating idea is to fill a bowl or a wide-brimmed urn with similar hued Christmas ornaments for an amazing showpiece! You can place your Christmas ball centerpiece in your living room or dining room. It is also perfect in the guest bedroom to give your house guests a warm Yuletide welcome.
Try these ideas and breathe new life to your old Christmas ornaments! With a little inspiration and creativity, you can give your home a memorable holiday décor this year!
by